Foto

Name

Dr.

Marie

Huber

Email

marie.huber (at) hu-berlin.de
---
Institution(SAP-OrgID)

Humboldt-Universität → Präsidium → Philosophische Fakultät → Institut für Geschichtswissenschaften →

Sozial- und Wirtschaftsgeschichte

Visiting address

Mohrenstraße 40/41

, Room Raum 341

Phone number
Research Focus
Marie Huber researches the history of development and nation building in Africa from a global history perspective as well as the transnational emergence and circulation of knowledge and the development of economic expectations. In her Ph.D. project Marie looked at the Ethiopian example to examine the execution of the World Heritage Convention in developing countries. 
Her current DFG-funded project is focusing on the business histories of the west-African airline "Air Afrique" and Ethiopian Airilnes. The project connects insights from postcolonial political history with an economic history approach. As part of the Priority Programme "Experience & Expectation - Historical Foundations of Economic Behaviour" she analyses, what functions the airlines fulfilled during the formation and modernisation of the nation states in the decolonisation period and what external events and instructions had influenced the entrepreneurial actions and decisions. In April 2022 she started investigating economic relations of German companies with Africa and Asia after 1950, as a member of the subproject on foreign trade securitisation in the framework of the research cluster SFB/TRR 138 "Dynamics of Security".
About Marie
Marie Huber studied History and Sociology at TU Berlin. After her graduation she worked in urban research as a freelancer. In 2017 she completed her PhD project which was funded by the Gerda-Henkel foundation and procured her invitations to research in Paris and Addis Ababa.
Subsequently she worked as a PostDoc fellow at the chair for African History at the Department of Asian and African Studies for a year, supported by a scholarship courtesy to the Humboldt-Graduate School. During this time, she successfully applied for DFG funding to lead her own project. From 2020 on she was a research fellow at the chair for Social and Economic History. As lecturer she taught seminars on 20th century African History as well as scientific engagement with digital resources, and the history of industrialisation beyond the West. Since 2022 she is also a member of the department for Social and Economic History at Philipps University in Marburg. She is a mother to 3 children and volunteers as mentor in the women's network mentorme to aid the harmonisation of work-life duties and career planning for female professionals. She is a co-founder of perspektiven.blog, a platform for career paths for humanities and social science researchers.
---
Current publications 
Marie's first book "Developing Heritage – Developing Countries: Ethiopian Nation Building and the Origins of UNESCO World Heritage, 1960-1980" is published by De Gruyter as part of the series "Africa in Global History."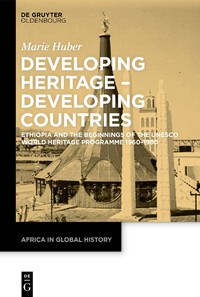 Book Review: Akerman, James R.:Decolonizing the Map. Cartography from Colony to Nation.Chicago2017.ISBN 9780226422787, in: Connections. A Journal for Historians and Area Specialists, 06.12.2019, <www.connections.clio-online.net/publicationreview/id/reb-28077>.

'

Altes Wissen auf neuen Wegen - Die Verbreitung von Äthiopienwissen durch internationale Netzwerke 1950-1980'. In Wissen in Bewegung: Migration und globale Verflechtungen in der Zeitgeschichte seit 1945., Simone Lässig, Stephanie Zloch, Lars Müller (ed.) 291–321. Berlin; Boston: De Gruyter 2018
---