Foto

Name

Dr.

Marie

Huber

Email

marie.huber (at) hu-berlin.de
Research focus
Marie Huber's research focusses on development history and nation-building in Africa from a global historical perspective and the transnational creation and circulation of knowledge. In her Ph.D. project Marie looks at the Ethiopian example to examine the execution of the World Heritage Convention in developing countries. Her findings highlight the profound effect that membership in the United Nations and participation in the new international political order that arose in the 1960s had on Ethiopia. Her work illuminates the extent to which foreign experts have managed Ethiopia's national heritage and the strategies of borrowing countries involved in development programmes. Her current research project is sponsored by the DFG and seated in the field of business history focussing specifically on the West African airline company "Air Afrique". In her research she questions the role of the airline in the greater context of the then newly found independence of West African nations. Her research combines insights from political and state historical theory with the history of economics to examine the influence that the political climate of the time had on business decisions within the company. Link to research project
---
About Marie
Marie Huber began her studies in history and sociology at the Technical University in Berlin before freelancing as an expert researcher for the city of Berlin writing reports on urban development. She graduated in 2017 with her PhD at the Institute for History at the Humboldt University (HU) in Berlin. Her dissertation project was sponsored by the Gerda Henkel Foundation and procured her invitations to research in Paris and Addis Ababa. Marie has since spent a year as a Post-Doc fellow at the Chair for African History at the Institute for Asian and African Studies at the HU Berlin on a scholarship supplied by the Humboldt Graduate School. Subsequently, she received further sponsorship from the German Research Foundation (DFG) for her own research position and is a team member of the Chair for Social and Economic History at the Department of History at the HU Berlin. In her recent courses she has taught African history of the 20th century and methodology for research using digital resources. Marie is mother to three children and volunteers as a mentor in a women's network to aid the harmonisation of work-life duties and career planning for female professionals.
---
Current publications 
Marie's first book "Developing Heritage – Developing Countries: Ethiopian Nation Building and the Origins of UNESCO World Heritage, 1960-1980" was published by De Gruyter on the 29th of November 2020 as part of the series "Africa in Global History."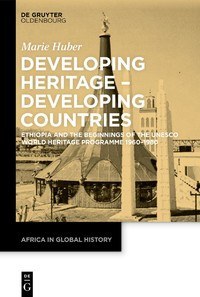 Book Review: Akerman, James R.:Decolonizing the Map. Cartography from Colony to Nation.Chicago2017.ISBN 9780226422787, in: Connections. A Journal for Historians and Area Specialists, 06.12.2019, <www.connections.clio-online.net/publicationreview/id/reb-28077>.
'Altes Wissen auf neuen Wegen - Die Verbreitung von Äthiopienwissen durch internationale Netzwerke 1950-1980'. In Wissen in Bewegung: Migration und globale Verflechtungen in der Zeitgeschichte seit 1945., Simone Lässig, Stephanie Zloch, Lars Müller (ed.) 291–321. Berlin; Boston: De Gruyter 2018
---