Name

M.A.

Julia

Heideklang
After her undergraduate studies (B.A. Latin/Biology) from 2009 to 2012, Julia Heideklang obtained her master's degrees (M. Ed. Latin/Biology; M. A. Classical Philology) from the Humboldt University of Berlin in 2017. In her master's thesis "Theophrastus' Botanical Writings: Strategies and Knowledge" she analysed strategies of presenting and evaluating botanical knowledge in the scientific botanical texts. Since June 2017 she is a doctoral student of the DFG graduate school "Literary and Epistemic History of Small Forms". In her dissertation project she focuses on the paratexts of botanical writings in early modern Europe.
paratexts in print media in the early modern era

history of botany

neo-Latin scientific literature
Botanics in the Making (1500–1700): Communication and Construction of the Botanical Science in Early Modern Europe
The dissertation project explores small forms within the context of botanical scientific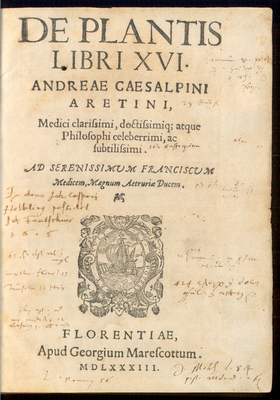 writings in early modern Europe (1500–1700). A central premise of the project is the strong interdependence between scientific texts, on the one hand, as literary products under specific aesthetic and economic constraints and on the other hand the authors' efforts to position themselves within both a literary tradition and their contemporary scientific community. The form and content of early modern scientific texts—and in particular their paratexts—are deeply shaped by contemporary scientific discourse; at the same time, they shape that very discourse. Despite their seemingly marginal position, in fact, paratexts play an important role as epistemic catalysts in defining the botanical science and strengthening its independence in the early modern era. The project will analyze a selection of representative botanical works, especially the historiae and Kreutterbücher, paying attention to title pages, dedicatory epistles, dedicatory poems and other prefaces and their relationship to the larger work. The project thereby aims to offer deeper insight into the communication strategies, literary composition and forms, by which early modern authors shaped their readers' perception of their writings. More broadly, it seeks to understand the development of botanical science's self-conception and how this self-conception in turn was conveyed to those in- and outside the scientific community.
Picture information: Title-page of Andrea Cesalpino's De plantis libri XVI, Florentiae: Apud Georgium Marescottum 1583.
(digitised by Zentralbibliothek Zürich: NB 721; http://dx.doi.org/10.3931/e-rara-37940)
Coauthor for "Natur und Technik. Biologie. Unterrichtsmaterial zur Sprachförderung 5/6", ed. by Herbert Weber, Berlin: Cornelsen 2013.