Foto

Figure

Alma Steinmetz

Name

M.A.

Julia

Steinmetz

Email

j.steinmetz (at) hu-berlin.de
Vita
Julia Steinmetz studied Cultural Theory and History, Archaeology, Art and Visual History and History at Humboldt-University. Since April 2020, she has been a scientific researcher and doctoral candidate of the DFG Research Training Group "Literary and Epistemic History of Small Forms". Her doctoral thesis investigates the materiality of historical knowledge and asks about the significance of handwritten paper objects for the beginnings of a history of science around 1900. Using the example of Ludwig Darmstaedter's autograph collection, the project examines the significance of material collections as a resource for research in the history of science and technology. 
Research interests
- History of science in the 19th and 20th century
- Materiality and Mediality of Research Collections in the Humanities
- Media of History
Research project
The Autograph as Medium for History: Ludwig Darmstaedter's Autograph Collection and its Significance for the History of Science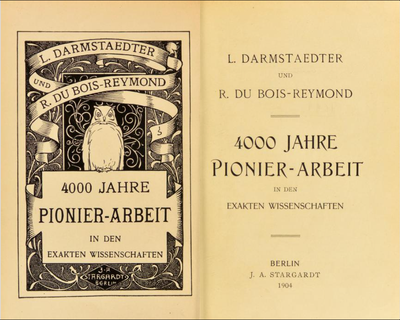 This dissertation project focuses on the Ludwig Darmstaedter Autograph Collection of Science and Technology, one of the most extensive collections of handwritten material in the history of science. Created by chemist Ludwig Darmstaedter as a general collecting project around 1900, the Autograph Collection makes visible developments in research approaches to the history of science and technology through the small form of the autograph. As this work aims to show, collecting practices, media innovations, and contemporary discourses on the meaning and materiality of historical documents not only exerted a formative influence on this collection, but also shaped how the autograph collection frames the very concept of history. The project contributes to the history of science and technology by focusing on the materials that enabled their creation around 1900.
Picture credit: 4000 Jahre Pionier-Arbeit in den exakten Wissenschaften, hrsg. v. René DuBois-Reymond und Ludwig Darmstaedter, Berlin 1904, Frontispiz.
Talks
05/2022: "Dokumentierende Autographe. Handschriftliche Papierobjekte und ihr Einsatz für die Wissenschaftsgeschichte", Tagung "Dokumentwerden. Zeitlichkeit – Arbeit – Materialisierung, DFG Graduiertenkolleg 2132 "Das Dokumentarische. Exzess und Entzug"/Ruhr Universität Bochum
11/2021: "Handschriften sammeln, Geschichte vereinen. Die Autographensammlung als Ressource", Tagung "Ressource 'Schriftträger'. Materielle Praktiken der Literatur zwischen Verschwendung und Nachhaltigkeit", RWTH Aachen und Heinrich-Heine-Universität Düsseldorf.
09/2021: "In Autographen denken. Gesammelte Geschichte der Wissenschaften um 1900", Workshop "Kleine Formen der Wissenschaftsgeschichte"/HU, Organisation zusammen mit Alexander Soytek
06/2016: "Deutsche Dialektaufnahmen. Der Sprachatlas und die Wenker'schen Sätze", Gastvortrag in der Vorlesung "Gefangene Stimmen. Zur Aktualität der Tonaufnahmen aus dem Lautarchiv der HU", PD Dr. Britta Lange/Kulturwissenschaft HU.
Publications
"Das Unikat in Serie. Die Autographensammlung als Ressource der Wissenschaftsgeschichte", in: Ressource 'Schriftträger'. Materielle Praktiken der Literatur zwischen Verschwendung und Nachhaltigkeit, ed. by Martin Bartelmus, Yashar Mohagheghi und Sergej Rickenbacher, Bielefeld: transcript 2023. (forthcoming)

 

"'Wahrheit erforschen, Gerechtigkeit üben.' Die Sammlung Darmstaedter und ihre Dokumentation der Frauenbewegung", in: Kleinformate im Umbruch (1918-1930), ed. by Caroline Adler, Maddalena Casarini und Daphne Weber, Berlin/Boston: De Gruyter 2023. (forthcoming)