Name

M.A.

Julia

Bärnighausen
Vita
Julia Bärnighausen is a doctoral candidate at the Chair of the History of Science at Humboldt University and research collaborator in the DFG-project "German Sales: Primary Market" at the Berlinische Galerie - Landesmuseum für Moderne Kunst, Fotografie und Architektur. She received a scholarship from the Evangelisches Studienwerk Villigst for her dissertation project, which also earned her a Library Research Grant from the Getty Research Institute in Los Angeles. Julia studied art history and history in Berlin and London. From 2015 to 2018 she was a research assistant in the BMBF collaboration project "Photo Objects" at the Kunsthistorisches Institut in Florenz – Max Planck Institut. In addition, she was head of the photo archive and exhibition manager at the Alfred Ehrhardt Stiftung in Berlin.
Research interests
Archives and Collections
History of Photography
Art Market Studies
Current project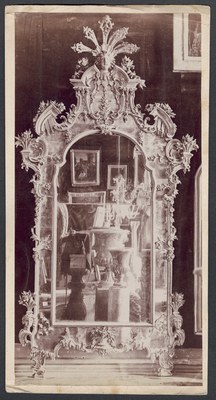 Visual Bureaucracies – A History of Knowledge of Art Dealing around 1900  (working title)
The doctoral thesis examines historical photographs from the auction house Galleria Sangiorgi in Rome (1892–1970) in three Italian archives: the Photothek of the Kunsthistorisches Institut in Florence, the photo library of the Fondazione Federico Zeri in Bologna and the Archivio Centrale dello Stato in Rome. The project aims to draft a transdisciplinary history of knowledge of the art trade around 1900 through visual media. Specialized knowledge, for example about attributions, price developments or negotiations, has always been at the heart of the art trade. Large parts of this knowledge can be retraced through the retouching, coloring, inscriptions, stamps, and other traces left behind on the Sangiorgi-photographs. They circulated in the various departments of the auction house and beyond functioning as visual index cards, minute protocols, and templates for the reproduction of antiques in the in-house workshop. The photographs of the Galleria Sangiorgi are exemplary for the bureaucratic processing of (and competition for) knowledge in nineteenth and early twentieth century art trade. The interweaving of the history of knowledge and art market research is as delicate as it is necessary: Ultimately, the project also aims to contribute to the productive collaboration of art market professionals and scholars.
Image: Mirror (first half 18th c.), albumen print, mounted on cardboard, photographer not identified (Galleria Sangiorgi, Rome), c. 1900, 26 x 13.7 cm (mount), inv. no. 615786, dep. "Kunstgewerbe" of the Photothek, Kunsthistorisches Institut in Florenz – Max-Planck-Institut.
Publications (selection)
Sophia Gräfe and Julia Bärnighausen: "Bilder der Natur: Eine Ordnungsgeschichte der Historischen Bildsammlungen des Museums für Naturkunde Berlin", in: Eine Frage der Perspektive: Objekte als Vermittler von Wissen, Junges Forum für Sammlungs- und Objektforschung, ed. by Gesellschaft für Universitätssammlungen e.V., Ernst Seidl, Frank Steinheimer and Cornelia Weber, vol. 5, pp. 57–73, https://edoc.hu-berlin.de/handle/18452/24594.
Julia Bärnighausen and Sophia Gräfe (eds.): Bilder der Natur – Objektgeschichten aus den Bild- und Schriftgutsammlungen der Historischen Arbeitsstelle, Onlinepublikation, Museum für Naturkunde Berlin 2020, https://www.museumfuernaturkunde.berlin/de/wissenschaft/bilder-der-natur.
Costanza Caraffa and Julia Bärnighausen (eds.): Photography and the Art Market around 1900, Mitteilungen des Kunsthistorischen Instituts in Florenz, LXII/1 (2020).
Julia Bärnighausen, Costanza Caraffa, Stefanie Klamm, Franka Schneider and Petra Wodtke (eds.): Foto-Objekte. Forschen in archäologischen, ethnologischen und kunsthistorischen Archiven, Kerber: Bielefeld 2020.
Julia Bärnighausen and Christiane Stahl: "Von Froschzungen und Blutkörperchen. Léon Foucaults Mikro-Daguerreotypien auf der Spur", in: Rundbrief Fotografie, 27/2 (2020), N.F. 106, pp. 8–21.
Julia Bärnighausen, Costanza Caraffa, Stefanie Klamm, Franka Schneider and Petra Wodtke (eds.): Photo-Objects. On the Materiality of Photographs and Photo-Archives in the Humanities and Sciences, Edition Open Access, Studies 12, Max Planck Institut für Wissenschaftsgeschichte: Berlin 2019, https://www.mprl-series.mpg.de/studies/12/index.html.
Franka Schneider, Julia Bärnighausen, Stefanie Klamm and Petra Wodtke: "Die Materialität des Punktum. Zum Potential ko-laborativer Objekt- und Sammlungsanalysen in Foto-Archiven", in: Eine Fotografie. Über die transdisziplinären Möglichkeiten der Bildforschung, Irene Ziehe and Ulrich Hägele 8eds.), Waxmann: Berlin 2017, pp. 219–244.
Exhibitions
Unboxing Photographs – Arbeiten im Fotoarchiv, ko-kuratiert mit Costanza Caraffa, Stefanie Klamm, Franka Schneider und Petra Wodtke, 16.02.­–27.05.2018, Kunstbibliothek, Staatliche Museen zu Berlin – Preußischer Kulturbesitz.
Teaching
Summer Term 2020: Bilder der Natur – Einblicke in das Bildarchiv des Museum für Naturkunde, with Sophia Gräfe, study program Vielfalt der Wissensformen, bologna.lab, Humboldt-Universität zu Berlin, in cooperation with the Historical Division of the Museum for Naturkunde, Berlin.